Why you need to start planning your now?
---
Find an answer by watching the below video.
Feature
Get Nifty & Thrifty Easily
---
iSaveMoneyGo comes loaded with many useful features that shifts the burden of financial planning, data management and sorting from an individual to the app - a smart tool for household and personal budget planning.
Track Fixed Expenses
iSaveMoneyGo is a monthly budget planner that lets you clone the categories and expenses from last month budget as well. This helps you keep your fixed expenses in view and not have to enter them over and over again.
Debt Tracking
Keeping track of every penny spent and every penny saved, you can easily manage to pay-off debts easily and quickly by using more clarity in your monthly budget planning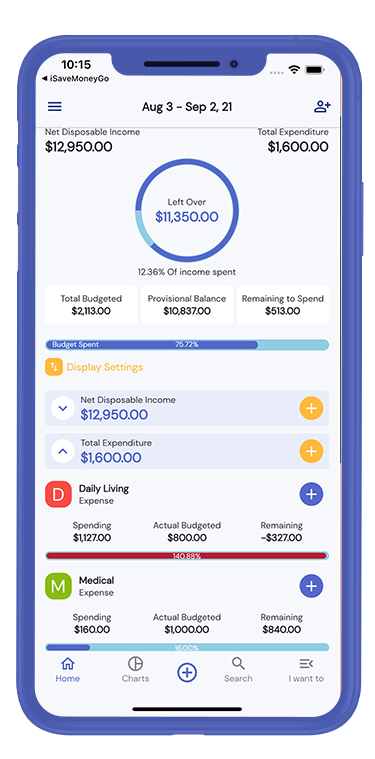 Plan Ahead
The apps helps you increase your savings by listing and organizing your expenses and lets you plan ahead. Keep some money aside for the unforeseen circumstances to hedge your risks of financial crisis.
Increase Credit Score
Improve and increase credit score by paying off debts on time, clearing your bills within the due dates and keeping all your financial record straight and organized to be documented anywhere any day.
Things to Love
iSaveMoneyGo for Team, Family and individual Money Matters
Easy to Use User Interface
Quick Listing and filtering of data
Multiple categories for different income sources
Built-in tutorial for quick learning
Cloud backup to access data on the go
Graphic representations for trends view
Supports multiple currencies, date and time zones
FREE Budget Planner for first three budgets
Pricing
Choose the Plan that Best Fits Your Budget and Expenses
---
Start off with a clarity of income gained and spent to use and save resources efficiently.
Go Stress FREE Today!
Basic
free
3 days free trial
Basic support
3 Budgets for FREE
Limitted features

Plus
$
11.99
Billed monthly
7 days free trial
Ticket support
Unlimited Budgets
Get access to all the plus feature

Why Our Users Love iSaveMoneyGo?
We waited until we could do it right. Then we did! Instead of creating a carbon copy.



A great (and cheap) app to keep track of your expenses with your spouse! I love the ability to copy your budgets over every month! The developers are awesome too!



We use the Family Budget Finance app to keep track of our expenditure each month to ensure we do not spend more than we earn. It is easy to use and if you update regularly you can see the percentage spent.



We have been looking for an app like this for a long time, something that would; let us set up individual budgets for different expenses (with unlimited envelopes), with an easy to use interface, that syncs with more than one account so that my wife and I can keep track of the same budget on our two...
FREE Sign-Up
Stay Updated on new updates, add-ons and new features rolled out!
Signup for FREE and start using the app on the web, phone or table!
FAQ
Frequently Asked Questions
---
Got a question? We've got answers. If you have some other questions, contact us using email.
Is there an iOS and Android version?
Yes, not only do we have an iOS and Android version but also a web app to be used on your desktop.
What are the three free budgets?
When you download the app, you can avail the first three budgets for FREE. That means, you can make three budget lists for FREE. We also offer a three day free trial and for the PLUS package features you will be billed $1.99 only monthly.
How to use the monthly budget & spending tracker?
First, create your monthly budget. When you first use our budget planner, we will ask you to create a monthly budget. You can choose to create a budget for personal, family, household, or a blank one with the option to add the category later. Then put in your income and expenses in the right fields and enter the amount.
How many people can use our money management and finance tracker?
Built for everyone in the family, young people starting their personal finance and team projects, we offer an easy to use app for everyone in the family or team with a monthly billing option. For each new device added you will have a new billed account.
Does the monthly budget & spending tracker work offline?
Yes, you can edit your home budget and expense tracking offline and when you are online, our app will update your data to the cloud and your data will be shared with your family members and friends.
Is the data secure and private in the app?
Yes, we work will all the cyber security SOPs in place and never compromise your data and privacy. Unless you choose to share your budget or account with anyone your data will remain private to you.
Start Now
Why Bear the Financial Constraints that are Manageable?
Gain better clarity of your weekly & monthly expenses
Find more options to save money
Enjoy financial freedom like never before
Download Now
Let's Get In Touch
Here are the ways you can contact us with any questions you have